Conheça o ConsignPro
Com a confiança de mais de 5.000 lojas de revenda desde 1996, o ConsignPro é um dos favoritos do setor. O inovador menu principal faz do ConsignPro um dos programas mais fáceis de usar e a equipe de suporte está sempre disponível para ajudar. O ConsignPro lida com ponto de venda de varejo, estoque, consignadores e gestão de clientes, comércio eletrônico e contabilidade de varejo robusta para uma variedade de segmentos de consignação, incluindo vestuário, antiguidades, noivas, móveis, arte, livros e equipamentos esportivos. Faça a avaliação de 30 dias.
Quem usa o ConsignPro?
Atende a proprietários de lojas de revenda e consignação desde 1996, ajudando a automatizar mais de 4.000 lojas de revenda em toda a América do Norte. Desde operadores individuais até brechós de artigos militares de 1.800 metros quadrados.
Onde o ConsignPro pode ser implantado?
Windows (desktop), Windows (local), Linux (local)
Sobre o fornecedor
Visual Horizons Software
Fundado em 1996
Países disponíveis
Canadá, Estados Unidos
Sobre o fornecedor
Visual Horizons Software
Fundado em 1996
Países disponíveis
Canadá, Estados Unidos
Vídeos e imagens do ConsignPro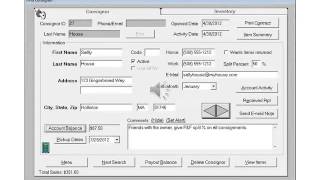 Compare preços do ConsignPro com produtos similares
Recursos do ConsignPro
Banco de dados do cliente
Gestão de comércio eletrônico
Gestão de descontos
Gestão de estoques
Gestão de estoques do varejo
Gestão de itens
Gestão de vales-presente
Leitura de código de barras/tíquetes
Para varejistas
Ponto de vendas (PDV)
Processamento de pagamentos
Programa de fidelidade
Relatórios de vendas
Alternativas ao ConsignPro
Byron
VSO, EUA
Usuário do LinkedIn Verificado
Varejistas
Usou o software para: Mais de dois anos
I love Consign Pro! Does what I need, WHEN I need! Fast!
Comentários: cosign pro makes consignment an easy breezy thing of modern bliss. What was once a daunting bookkeeping tracking task, has become incredibly easy to not just handle, and manage, but to master.
Vantagens:
- SO much more responsive than competing software -More features than what I was using previously -Increased my margins through use of this software. -User-friendly, familiar UI structure
Desvantagens:
-not really many cons to talk about -wish I had discovered it sooner -Needs to be used more widespread
Varejistas, 2-10 funcionários
Usou o software para: Mais de dois anos
Alternativas consideradas:
Best Consignment Software Ever!!
Comentários: I bought my business with very awful antiquated software. [SENSITIVE CONTENT HIDDEN] made the transition crazy smooth and was able to transfer all my data/consignor information with ease. From day one, they have been so helpful and easy to work with. Best professional purchase I have made for my business!
Vantagens:
I am not a computer person, so for me to say this is easy to use says a lot! It has all the features you could ask for, and then some. They literally thought of everything. I am beyond pleased with the product and service. [SENSITIVE CONTENT HIDDEN] and his team are always there to answer and questions. SO IMPRESSED AND WILL NEVER USE ANOTHER. I recommend them to everyone I meet in my field.
Desvantagens:
No cons. None. I love this software and their support.
Varejistas, 2-10 funcionários
Usou o software para: Mais de dois anos
Fonte: SoftwareAdvice
Adequate at best but gets the job done.
Comentários: Using consignor pro personally for 2 years i found it to be just adequate for a small store like what we have. if all you need is one computer to make sales and do inventory it is pretty good. If you are like me and enjoy smart integration this is the furthest thing from it. They charge money per computer then again if you want those computers to talk to each other per computer. Something that is very easy to do with a little networking knowledge. Customer support is irritated and condescending from the start. they clearly don't want to help. It has a lot of technically problems and quirks. I have fixed/ worked around most of them. At least once a week i have to fix something stupid for my employees. Most the times they cause it but what they did shouldn't have caused a problem to begin with. The tag printer especially has so many problems. Anything you can think of it has done it at random. Print two of the same tag. not print, only print the bottom half of the tag, Spit out a tag with nothing on it instead of print it, only print when facing downward. And then it will work fine right after any of those. I have cleaned it. it changed nothing. I only add this part because it came from them in the bundle we got and i'm not enter sure the problem is from the printer its self. i could go on forever about all the problems that consignor pro has but i put in the biggest ones i can think of quickly for the cons section. I also reached the limit of words in the cons section.
Vantagens:
As much as i complain about this software its not all bad. It does get the job done and not that badly. When i run into a problem or setting that needs to be changed it often has at least one setting that helps. more then i often expect it too. it has enough ways to check on your employees and see whats happened that day assuming they don't know the security exploit i talked about. -If you are planning on being the only worker in your store and don't like a lot of overwhelming features or mouthy charges this is pretty great option. Its self explanatory and easy to use once you figure out how to get around all the bugs. If not for all the bugs i would say it is would be good for those who are bad with tech but you'll spend more time fixing it then using it when you first get it and tech support is a mouthy subscription don't want to help. They do pick up fast though.
Desvantagens:
-You can view admin restricted information in its program files. Such as find and edit account log in/out and deletion logs. they are stored in plane text files. This would make it very easy to lie and steal as an employee. Such as: log in 10 minutes late but edit it to say you were on time or add money to an account; cash it out when delete the logs of both happening. This would keep the till accurate at the end of the day while also leaving no log of who did it or that it happened. I had an employee doing this and only found out do to our camera system. -The software feels and looks like its from the 2000s. Its also inconstant making teaching new employees harder. Such as: when ringing up an item to sale. -Putting in 1 it would price it at 1$. Makes sense, but when you are adding new items into inventory putting in 1 prices it at .01$ but finishing the item without leaving the pricing box would make it a 1$ So to make it 1$ you have to type in 100. leave the pricing box by pressing tab then finish the item. This makes it easy to accidentally price an item at 100$ that supposed to be 1$ If you leave the pricing box blank and trying to do anything else it pops up saying you have to enter a number first. Slowing you down. if you put in 1.99 it freaks out and puts something like .03 in instead. Don't know why. O and if you enter anything that is not a number the software just crashes and doesn't enter the item. it completely closes and saves nothing that was changed.
Resposta do Visual Horizons Software
há 2 anos
There are many security features built-into ConsignPro including employee permissions, an owners "suspicion" log file, and employee logging - all tools that only the owner has access to. We've recently moved all log files into the database file itself making them less susceptible to exploit by dishonest employees. While no program is impervious to dishonest employees, ConsignPro is as close as it gets.
Mobiliário, 2-10 funcionários
Usou o software para: Mais de dois anos
Alternativas consideradas:
Best IT support ever!
Comentários: Profit and payment information is easily accessed. Inventory is accurate and consignors have information that is transparent and available 24/7.
Vantagens:
When I contacted [SENSITIVE CONTENT HIDDEN] at ConsignPro 7 years ago for the free trial, she was so welcoming and supportive. The trial went well and we purchased the whole set-up for our new furniture consignment business. We had minimal-to-no transition problems and was able to start from day one with sales. Anytime I've had carrier updates that caused a problem, [SENSITIVE CONTENT HIDDEN] were always there and fixed the issues immediately. They are awesome! ConsignPro is user friendly, I have 2 senior women working for me and they can manage the software with minimal training. I would recommend any consignment store spend the money to install as you ultimately save money and can leave the store at the end of the day when everyone else does!
Desvantagens:
Frequent updates are annoying but a necessary evil.
Varejistas, 2-10 funcionários
Usou o software para: Mais de dois anos
Alternativas consideradas:
Great service
Comentários: Overall, I'm a very satisfied customer and really recommend Consing-Pro to any resale shops.
Vantagens:
I love using Consign-Pro for my resale shop. It's super user-friendly and so easy to teach new employees. The staff, especially [SENSITIVE CONTENT HIDDEN] is always accessible and can fix literally anything on my software or my computer!
Desvantagens:
It would be great if when there's an update to our system, Consign-Pro would let its customers know rather than having to find out on our own just by chance.